AI Projects supporting small businesses in fashion, farming and fire-fighting to get funding boost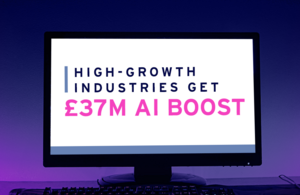 The UK government has announced £37 million in new funding, just before the upcoming AI Safety Summit in November 2023, to support the development of artificial intelligence projects across diverse sectors like fashion, farming and emergency services. This includes £32 million now open for bids to businesses in high-growth industries – from transport to agriculture and construction to creative industries – to help grow AI initiatives in a safe and responsible way. An additional £5 million has been awarded to feasibility studies for 100 projects from small businesses, fostering innovative AI ideas to boost productivity across various sectors.
Examples of funded projects include using AI for textile recycling in the fashion industry, project management systems to improve housebuilding efficiency, disease detection in grape plants to prevent crop waste, and optimising fire service fleets for net-zero emissions.
This funding boost comes ahead of the UK's first AI Safety Summit in November, where global leaders will discuss managing AI risks and opportunities. The competition for funding will run until November 8, coinciding with the summit. The government aims to shape AI's development to maximise economic benefits, while ensuring its safe and responsible use across sectors.
Find out more about securing funding to help grow AI in a safe and responsible way