Case study: Lusso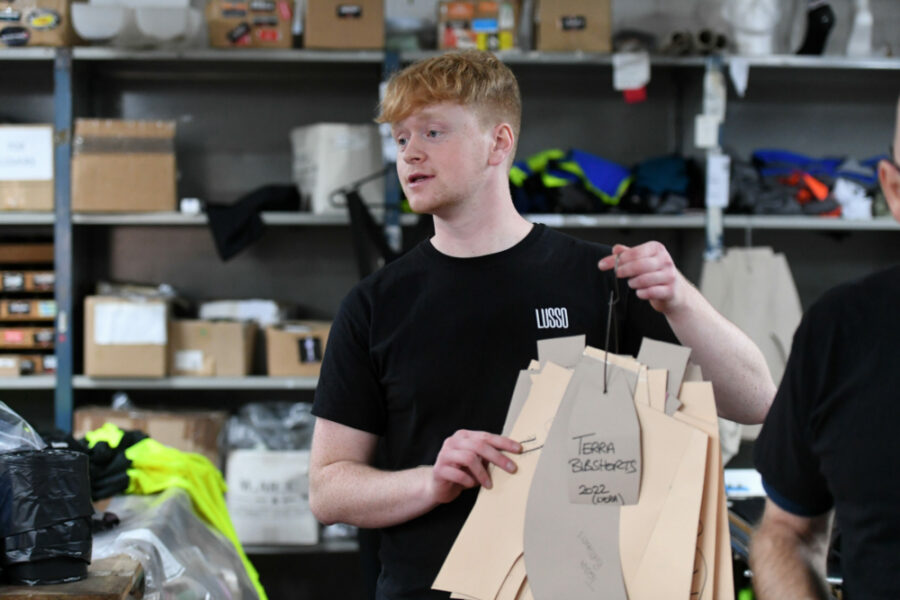 Radcliffe-based cycle clothing manufacturer, Lusso has embarked on a digital transformation which will boost productivity, create new jobs and open up new global markets.
Established in 1982 by husband and wife team, Lusso has become the go-to clothing brand for professional and amateur cyclists around the world. In 2021, Jake Wright, a professional cyclist and former national Time Trial champion took over the business. To grow the business Jake knew he would have to digitalise the cutting process
The cutting process which had been manual throughout the company's history, included manually laying up the cloth, placing cardboard patterns over the material, chalking the outline, cutting manually with a tower knife and then bundling it up and giving it to the sewing machinists.
With the support from the government's Made Smarter programme, Lusso is replacing manual production processes with an Auto Computer Aided Design (CAD) and Computer Aided Manufacturing (CAM) system, material scanner and photo digitiser technology.
As part of the support, Made Smarter worked with the business to create a digital roadmap and connected them to Vetigraph, specialists in cutting machines and software for the fashion industry, to develop a technology solution to overcome their key challenges and understand the process of pattern digitisation. This included visits to other textile manufacturers who had digitalised their own processes with support from the Made Smarter programme.
Jake Wright, Managing Director, said: "We want to be recognised as one of the major cycling clothing brands in the UK, and build on our strong reputation of our products and services by expanding into new markets, and to continue to grow international sales.
"However, the manual cutting processes could not keep up with the demand and had been limiting production capacity.

"Made Smarter has given us the know-how, the confidence and the digital tools to take our business to the next level."
The benefits of replacing Lusso's manual processes with digital automation will speed up the cutting process by 80% and increase production from 60 garments to 300 a day. In addition, increased production will enable Lusso to increase the number of machinists it employs, and venture into other sportswear markets such as football, rugby, run and gym wear.
If you're looking for direct government support visit the Business Support page.